Dog Behaviourist Chertsey Dog Training Egham Puppy Socialisation Training Staines Obedience Classes
Puppy and Dog Training Twickenham Richmond Hayes Uxbridge Guildford
Hi, Stephen Hawkins here & I run F.E.T.C.H., a dog training initiative using incentive and distraction methods of training.
I've owned & trained dogs since I was seven, albeit with guidance from my parents at first both of whom came from dog loving & owning families. I've always helped family & friends with their dogs & started helping clients 20 years ago. Having only owned rescue dogs, they have given me a great insight into a variety of behavioural problems.
My first dog was from Battersea Dogs Home named Shep, not the most original of names for a Border Collie cross I grant you, but I was only seven! With the help of my mother, I taught Shep to count. We started by asking him to bark once & when he was consistent, we asked to him bark twice. By the time we got him to bark three times, he understood what was required & very quickly progressed. We felt it only fair to stop at ten as by nine he was running out of breath & he could only a manage a rather tired yelp at ten. By the way if you still don't believe a dog can count, put three biscuits in your pocket & then give your dog two!
Based in the UK (GB), we can provide Dog Training & behavioural sessions in Staines Egham Chertsey Richmond Twickenham Esher Hersham Cobham Guildford West Byfleet Woking Ewell Oxshott Hook Chessington Claygate, as well as in Esher Cobham Epsom Windlesham Bagshot Lightwater Camberley Surrey, Frimley Chobham & Farnborough Hampshire. We can provide behavioral consultations in Slough Berkshire, Windsor Berks, Staines Upon Thames, Bracknell Berkshire, Sunninghill Englefield Green, Egham Sunningdale Bagshot Ascot Berks, Virginia Water, as well as Chertsey Weybridge New Haw, Cobham Ottershaw Woodham Woking West Byfleet Esher Walton on Thames & Addlestone. Our coverage comprises Hounslow Harmondsworth Harlington Hillingdon Ickenham Stoke Poges, Ruislip Uxbridge Gerrards Cross, Twickenham & cover Stanwell Farnham Royal, Bray Slough Berks, Maidenhead Ascot Colnbrook. Our geographical scope incorporates Slough Berkshire, Bracknell Berks, Iver Ascot Berkshire, Woking Guildford West Drayton, Windsor Berkshire Bagshot Burnham Beeches, Yiewsley Uxbridge Southall and Hayes as well as Richmond Kingston Upon Thames, Esher West Byfleet New Malden, Thames Ditton, Hampton Court, Sunbury, Surbiton & incorporates Hampton Hill, Hampton Wick, East Molesey, Cobham Tolworth Ewell Long Ditton, & Epsom areas. Our catchment area encompasses Chorleywood Bucks, Amersham Chesham Denham Uxbridge Cowley Rickmansworth & Beaconsfield Buckinghamshire, along with Hounslow Brentford Kew Kingston Upon Thames Woking Twickenham Isleworth South Ealing, Chiswick & Old Osterley. We also train in Staines Windsor Berkshire, Egham Horton Wraysbury Eton Datchet & can travel to Feltham Whitton Hanworth Hounslow Bedfont and Cranford Hayes Heston as well as Twickenham South West London, Teddington Mortlake Richmond Surrey Ham Bushey. We also offer Dog Walking in Laleham Staines, Ashford Middx, as well as Upper Halliford & have Dog Walkers in Littleton Shepperton & Charlton Village. Postcodes covered comprise TW18 TW19 TW20 TW10 TW11 TW12 TW13 TW14 TW15 TW16 TW17 as well as TW6 TW7 TW8 TW9 TW1 TW2 TW3 TW4 TW5 & lessons are provided at KT20 KT21 KT22 KT23 KT24 KT16 KT17 KT18 KT19 along with UB7 UB8 UB9 UB10 UB11 UB1 UB2 UB3 UB4 UB5 UB6
We are located in the UK (GB), we provide Dog Training services in Hounslow Horton Egham and Windsor Berkshire, Eton Datchet Wraysbury & can travel to Staines Bedfont Hanworth Hayes Whitton Cranford Heston and Feltham as well as Bushey Mortlake Richmond Surrey Twickenham Teddington Ham & South West London, . Behavioural consultations can be provided in Weybridge Addlestone, Woodham New Haw, Esher Woking Ottershaw Chertsey Cobham Walton on Thames. We also provide Dog Walking in Laleham Shepperton Staines, as well as Ashford Middx, & have Dog Walkers in Charlton Village Upper Halliford, & Littleton. Catchment incorporates Ascot Berkshire, Burnham Beeches Bagshot Slough Berkshire, Windsor Berkshire Guildford, Woking Bracknell Berks, and Southall Yiewsley Uxbridge West Drayton, Hayes Iver as well as Kingston Upon Thames, Long Ditton, Hampton Court, Thames Ditton, Sunbury, East Molesey, Hampton Hill, & comprises Cobham West Byfleet Epsom Esher Richmond Hampton Wick, Surbiton Tolworth New Malden, & Ewell areas. Training is also held in Esher Claygate Chessington, Hook Oxshott Ewell Cobham West Byfleet Guildford Woking Hersham Leatherhead Richmond Twickenham and can provide house & crate training in Esher Camberley Surrey, Bagshot Windlesham Farnborough Hampshire, Epsom Chobham West Byfleet Lightwater & Frimley for dog whisperer & dog listener services. Coverage includes Windsor Berks, Slough Englefield Green, Egham Staines Upon Thames, Ascot Berks, Bracknell Berkshire, Sunningdale Sunninghill Bagshot Virginia Water, Cobham as well as Harmondsworth Twickenham Harlington HounslowUxbridge Gerrards Cross, Hillingdon Ickenham Stoke Poges, Ruislip. Geographical scope encompasses Chesham Chorleywood Bucks, Cowley Denham Uxbridge Amersham Beaconsfield Buckinghamshire, & Rickmansworth along with Kingston South Ealing, Twickenham Isleworth Hounslow Woking Brentford Old Osterley, Chiswick & Kew. We cover postcodes HP6 HP7 HP8 HP9 HP10 HP11 RG12 RG40 RG41 RG42 RG45 along with WD17 WD18 WD24 WD25 HP12 HP13 HP14 HP15 WD3 WD4 and WD5 and behaviour lessons can be given in W4 W5 W6 W7 W13 HA1 HA2 HA3 HA4 HA5 HA6 as well as SL6 SL7 SL8 SL9 SL1 SL2 SL3 SL4 SL5
We are situated in the South East, we give Dog Training & we have experience of dealing with stopping Lead pulling, recall, stopping barking & many behavioural problems in Uxbridge Hillingdon Stoke Poges, Gerrards Cross, Harmondsworth Ickenham Hounslow Twickenham Ruislip Harlington & cover Farnham Royal, Bray Colnbrook Slough Berks, Stanwell Maidenhead Ascot Camberley. We also supply behavioral consultations in Bracknell Berks, Windsor Berkshire Ascot Berkshire, Iver Uxbridge Guildford Woking Yiewsley Slough Berkshire, Burnham Beeches, Bagshot West Drayton, Southall and Hayes as well as Sunbury on Thames, New Malden, Surbiton Hampton Court, Thames Ditton, West Byfleet Richmond Surrey Kingston Upon Thames, Esher & incorporates Long Ditton, Tolworth East Molesey, Hampton Hill, Hampton Wick, Epsom Ewell and Cobham areas. Our coverage encompasses Chesham Uxbridge Cowley Beaconsfield Buckinghamshire Denham Chorleywood Bucks, Rickmansworth Amersham along with Isleworth Kew Chiswick Hounslow Kingston Upon Thames South Ealing, Brentford Twickenham Old Osterley and Woking. Our geographical scope incorporates Windsor Berkshire, Eton Datchet Egham Staines Camberley Horton Wraysbury & can travel to Hounslow Hayes Whitton Bedfont Heston Cranford Feltham Hanworth as well as Twickenham Bushey Richmond Surrey Ham Mortlake South West London, Teddington. Our catchment area comprises Woking Oxshott Ewell Richmond UK Guildford Twickenham Hook Claygate Chessington Cobham West Byfleet Esher Hersham, as well as in Farnborough Hampshire, Frimley Epsom Esher Cobham Camberley Surrey, Chobham Windlesham Lightwater Bagshot. We also train in Slough Berkshire, Bracknell Berkshire, Egham Windsor Berks, Sunningdale Staines Upon Thames, Ascot Berks, Englefield Green, Sunninghill Virginia Water, as well as Walton on Thames Cobham Weybridge Chertsey Esher Woking Addlestone West Byfleet New Haw, Woodham and Ottershaw We also have Dog Walkers in Staines Laleham Ashford Middx, as well as Littleton Upper Halliford Shepperton & Charlton Village. Postcodes accommodated are W6 W7 W13 SW18 SW19 SW20 SW SW13 SW14 W3 W4 W5 not forgetting GU11 GU12 GU14 GU15 GU16 GU1 GU2 GU3 GU4 GU5 GU7 GU8 & behavior training can be given at GU21 GU22 GU23 GU24 GU25 GU17 GU18 GU19 GU20 as well as KT4 KT5 KT6 KT7 KT1 KT2 KT3 & including KT11 KT12 KT13 KT14 KT15 KT8 KT9 KT10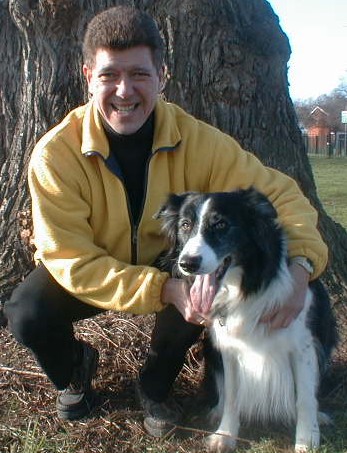 I now have Dyson, the handsome fellow above, and when he first came to us he obviously had issues with the security of his basket at nighttime, a legacy from his previous family. By adopting non threatening body language & using only gentle tones he eventually relaxed enough that we could stroke him when in his basket without him being threatened, though still with reservations! With a little more time he completely relaxed & is now quite content to be fussed in his sanctuary. As with many rescue dogs you don't know what has gone on before with them and have to be prepared for issues that are related to the most basic of actions, such as going to bed, or being touched on the head or ears, or even simply picking up the lead for a walk. However, all these behaviours can be improved & usually eradicated with the right body language, training techniques & of course, patience.
Training initally takes place in your home as this is where your dog is most relaxed & receptive to training & rehabilitation. The sessions preferably involve all the family and address your needs as well as that of the dog. We aim to give you the confidence and ability to continue working with your pet after the training sessions are over so that your dog reliably responds to you & your family, not just the trainer.
One of the many pleasures of my work is not only the diversity of dogs that I meet and help, from Akitas to Chihuahuas lately, but the variety of the experience with each training session means that I learn something new every day. Every client and their relationship with their dog is unique and requires individual attention and this makes my work both enjoyable and challenging and keeps me passionate about training. We are based in Laleham, Middlesex which is near Heathrow Airport.
Please contact us if you have any further enquiries, or wish to book days for our Dog Walking or Home Visiting Services.
Phone or e-mail us or fill in our e-mail form below but please double check your email address details to ensure we can reply to you.