Wednesday 25 November 2015 at 4:24 pm. Used tags: cats, dogs, socialisation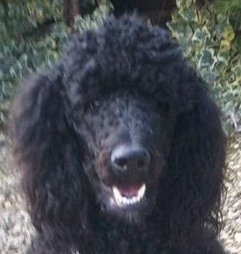 Recently, I was training a young Standard Poodle who shared the house with two cats. I always check with clients to see if there are any issues between the pets as having grown up with cats & dogs in the house at the same time, I know a number of socialisation techniques to help as once the situation is accepted by all parties, I know how well they can all get on & there is usually a lot of entertainment to be had from watching them as the relationship develops.
The poodle was obviously very happy with the arrangement, as were the cats despite the obvious size difference. After a while, we had a time out from training as I chatted with the client about the next session. At this point, one of the cats saw her opportunity & walked along the mantelpiece above the fireplace & looked squarely at the poodle. The poodle, obviously used to this behaviour, turned around & sat directly in front of the cat & was now at the same eye level as his feline friend.
The cat then proceeded to paw the side of the dog's face just like it would to another cat to initiate a game. The poodle then started pawing the cat gently around her face & started wagging. The cat quickly followed up with some more pawing followed by swatting the dog's face but with claws withdrawn as she had no intention of hurting him. The poodle thought this was a great game & did the same to the cat, albeit with a very gentle swat to avoid knocking the cat off the mantelpiece!
The owner told me that it had started when the poodle was a puppy so had grown up with this behaviour & so thought it quite normal as they continued to keep pawing & swatting each other like a pair of kittens!
Do you have any good cat & dog stories? Just share with us in the comments section below.
No comments