Saturday 07 November 2015 at 11:27 am. Used tags: pup, puppy, staffy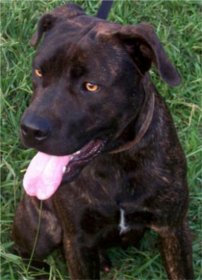 I was training a couple of dogs in the park the other day when this very young dark brindle canine ball came flying towards us! Just as the pup got within a couple of yards of us, he slid onto his side as though he was sliding into 1st base! As he came to a halt, he rolled on his back exposing his underside to show he was no threat whilst all the time wagging his whole body from top to bottom.
It was at this point we were all fairly confident that this was a friendly dog!
I spoke to the owner & apparently this was his Staffy's normal greeting behaviour & as it seemed to work, he continued using it. He was certainly a good example of why you should never judge a dog by its breed and although, unfortunately, they have had a lot of bad press, just because it's a Staffy it doesn't necessarily mean it's a reason to panic when you see one hurtling towards you!
Frankly, they're the second most popular breed we train, & are probably the easiest to train because they have an innate desire to please their owner. Also, they are one of the most entertaining breeds as most Staffy owners are only too aware!
two comments